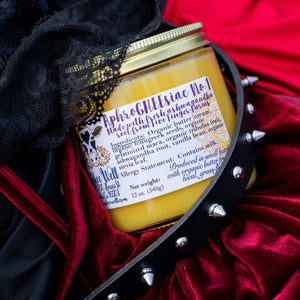 Golden, delicious ghee made with organic butter from grass-fed cows, organic fenugreek seeds, organic gelatinized maca, organic tribulus fruit, fresh ashwagandha root grown locally in Ferndale, CA by Five Finger Farms, real Tahitian vanilla beans and a touch of organic stevia leaf to sweeten.
The "No.1" formulation contains a synergistic blend of testosterone-boosting ingredients (we hesitate to call it the "male" version, as many women can benefit from a slight boost in testosterone as well). Fenugreek seeds give it a maple-like flavor, which makes it perfect for pancakes, waffles & crepes. Try spreading it onto baked goods, stir it into hot oatmeal or blend into coffee/tea.
Buy 4 jars and get $10 off your order. No code necessary - mix and match flavors - discount automatically applied in cart.
Shipping (within the U.S. mainland) is always free on every order!