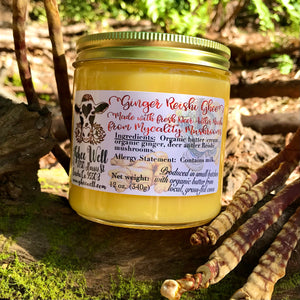 Golden, delicious ghee made with three ingredients: organic butter from grass-fed cows, organic fresh ginger and locally grown deer antler Reishi mushrooms from Mycality Mushrooms in Arcata, CA.
A little more versatile than the Cinnamon Ginger Reishi flavor, this ghee has all of the wonderful benefits of Reishi mushroom with just enough ginger to completely mellow out the mushroom's bitter taste. Use it to cook with, melt it over rice, blend it into your coffee or simply eat it with a spoon.
Buy 4 jars and get $10 off your order. No code necessary - mix and match flavors - discount automatically applied in cart.
Shipping (within the U.S. mainland) is always free on every order!