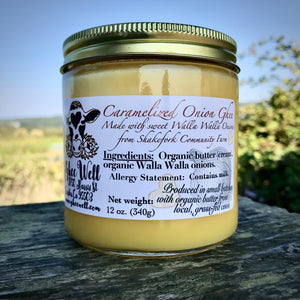 Golden, delicious ghee made with two ingredients: organic butter from grass-fed cows and locally grown organic Walla Walla sweet onions from Shakefork Community Farm in Carlotta, CA.
This ghee was created during the time of year that our best-selling Caramelized Leek was unavailable (due to leeks being out of season) and it quickly gained side-by-side popularity... some diehard Caramelized Leek fans have admitted to us that they think this flavor is equally good, if not better. The flavor profile is similar, with the Leek being on the sweeter/grassier side and Onion being a little stronger in flavor. Very versatile and great for a wide range of dishes, but can also simply be used as a savory spread on crackers or toast.

Buy 4 jars and get $10 off your order. No code necessary - mix and match flavors - discount automatically applied in cart.
Shipping (within the U.S. mainland) is always free on every order!