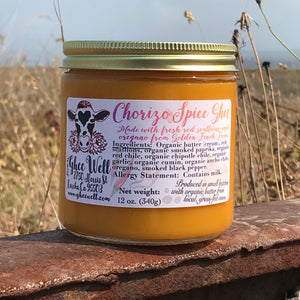 Beautiful, deep orange-hued ghee made with organic butter from grass-fed cows, red scallions grown in Fortuna, CA by Palmer Creek Farm, organic smoked paprika, organic red chile, organic chipotle chile, organic garlic, organic cumin, organic ancho chile, fresh oregano (also grown by Golden Finch Farm) and smoked black pepper.
This ghee is smoky, spicy and slightly more complex than the Smoky Chipotle with a similar medium level of spice. Made specifically to pair with pork, but does an amazing job transforming potatoes, eggs, cauliflower, squash and almost anything else into chorizo-spiced goodness.

Buy 4 jars and get $10 off your order. No code necessary - mix and match flavors - discount automatically applied in cart.
Shipping (within the U.S. mainland) is always free on every order!