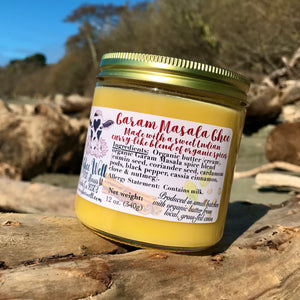 Golden, delicious ghee made with organic butter from grass-fed cows and an organic Garam Masala spice blend of cumin seed, coriander seed, cardamom pods, black pepper, cassia cinnamon, clove & nutmeg.
Garam Masala is a classic Indian cooking spice that basically tastes like curry and Chai tea had a baby. The absence of turmeric in this curry blend makes it savory-sweet and complex, perfect as a starter for making curry or cooking cuts of lamb. Try using it to fry up sweet potatoes or use it to roast root vegetables like carrots, beets and parsnips to enhance their natural sweetness.
Buy 4 jars and get $10 off your order. No code necessary - mix and match flavors - discount automatically applied in cart.
Shipping (within the U.S. mainland) is always free on every order!