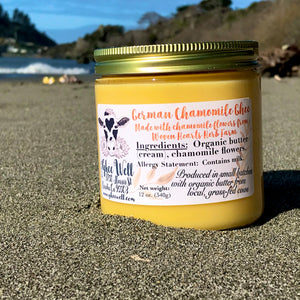 Golden, delicious ghee made with two ingredients: organic butter from grass-fed cows and locally grown organic chamomile flowers from Woven Hearts Herb Farm in McKinleyville, CA.
This ghee has a tangy, bright flavor that is almost lemon-like. Perfect for sautéing greens, cooking fish, making lemony sauces like hollandaise and anything else you'd like to add a little zest to!

Buy 4 jars and get $10 off your order. No code necessary - mix and match flavors - discount automatically applied in cart.
Shipping (within the U.S. mainland) is always free on every order!