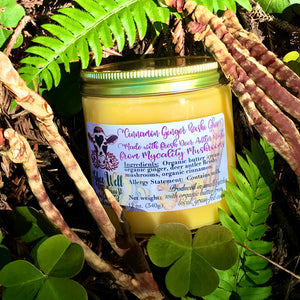 Golden, delicious ghee made with four ingredients: organic butter from grass-fed cows, organic fresh ginger, organic cinnamon and locally grown deer antler Reishi mushrooms from Mycality Mushrooms in Arcata, CA.
Slightly spicy-sweet, this ghee has all of the wonderful benefits of Reishi mushroom with just enough ginger & cinnamon to completely mellow out the mushroom's bitter taste. Roast root vegetables with it, melt a few spoonfuls over baked sweet potatoes, blend it into your coffee or simply eat it with a spoon.
Buy 4 jars and get $10 off your order. No code necessary - mix and match flavors - discount automatically applied in cart.
Shipping (within the U.S. mainland) is always free on every order!