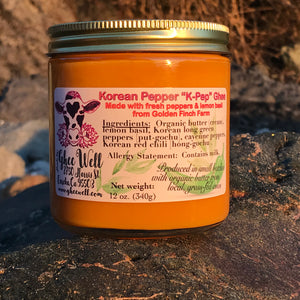 Vibrant, orange-hued ghee made with five ingredients: organic butter from grass-fed cows, lemon basil plus fresh Korean long green peppers and cayenne peppers (all grown in Loleta, CA by Golden Finch farm) with Korean red chili flakes.
This ghee mimics the spicy, tangy flavor of gochujang (Korean red chili paste) on the mild-to-medium end of the spicy spectrum. Great for stir-frying, sautéing cabbage or Asian greens, adding to soups, melting over noodles or rice, cooking chicken or shrimp.

Buy 4 jars and get $10 off your order. No code necessary - mix and match flavors - discount automatically applied in cart.
Shipping (within the U.S. mainland) is always free on every order!