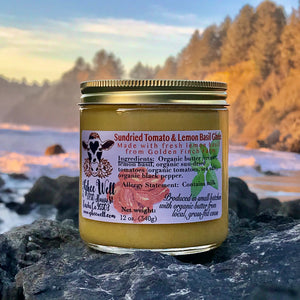 Golden, delicious ghee made with four ingredients: organic butter from grass-fed cows, fresh lemon basil grown in Loleta, CA by Golden Finch farm, organic sun-dried tomatoes and organic black pepper.
Chicken, pasta & seafood are the first things that come to mind with this ghee, although it would lend itself well to almost any Italian dish. The strong sun-dried tomato flavor makes it a nice spread for baguettes, bagels, crackers and flatbreads.
Buy 4 jars and get $10 off your order. No code necessary - mix and match flavors - discount automatically applied in cart.
Shipping (within the U.S. mainland) is always free on every order!