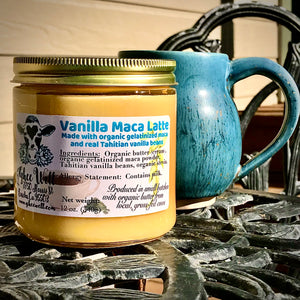 Golden, delicious ghee made with four ingredients: organic butter from grass-fed cows, organic gelatinized maca powder, real Tahitian vanilla beans and a small amount of organic whole stevia leaf for a touch of sweetness.
We do not use any flavorings or extracts in our Vanilla Maca Latte Ghee, instead choosing to cut and scrape real vanilla beans by hand for this flavor. This flavor was specifically made for coffee as it adds a delicious malty flavor to hot beverages & the gelatinized maca adds a little extra "kick" from its testosterone-boosting properties. Great as a spread on anything sweet, especially scones, muffins & banana bread. Try a little bit on top of a fresh Medjool date for a real treat.
Buy 4 jars and get $10 off your order. No code necessary - mix and match flavors - discount automatically applied in cart.
Shipping (within the U.S. mainland) is always free on every order!