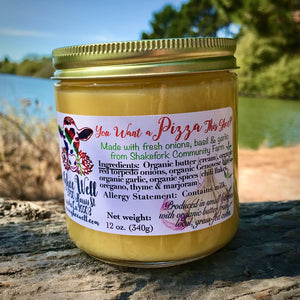 Golden, delicious ghee made with organic butter from grass-fed cows, organic fresh red torpedo onions, organic fresh Genovese basil & organic garlic (all grown by Shakefork Community Farm in Carlotta, CA) and an organic "pizza spice" blend of chili flakes, oregano, thyme & marjoram.
Yes, this is quite literally pizza in a jar. It even has a slight parmesan-like flavor to it (I'm not even sure how I did this, perhaps it's the fresh red torpedo onions caramelized in the ghee) that makes it an excellent addition to any type of pasta dish, filling or sauce. One of our top choices for a spread.

Buy 4 jars and get $10 off your order. No code necessary - mix and match flavors - discount automatically applied in cart.
Shipping (within the U.S. mainland) is always free on every order!