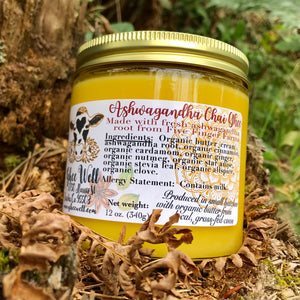 Golden, delicious ghee made with organic butter from grass-fed cows, a blend of organic chai spices (cinnamon, cardamom, ginger, nutmeg, star anise, allspice & clove), fresh ashwagandha root grown locally in Ferndale, CA by Five Finger Farms, and a touch of organic stevia leaf to sweeten.
Try spreading it onto baked goods (like scones, muffins or a flaky croissant), melt over warm pancakes, stir it into hot oatmeal, use it as a base for curries or blend into coffee or tea.
Buy 4 jars and get $10 off your order. No code necessary - mix and match flavors - discount automatically applied in cart.
Shipping (within the U.S. mainland) is always free on every order!