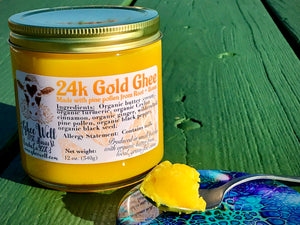 Golden, delicious ghee made with organic butter from grass-fed cows, organic turmeric, organic Ceylon cinnamon, organic ginger, wildcrafted pine pollen (from Root + Bones supplement company out of Arcata, CA), organic black pepper and organic black seed.
When we say it's GOLD, we mean it... loaded with high quality organic turmeric, which gives it that beautiful color. Our turmeric, cinnamon and ginger all come from Red Ape Cinnamon just north of us in Eugene, OR where they test every batch of spices for heavy metals - unfortunately a common issue in roots like turmeric & ginger - as well as mold, yeast, and other pathogens.
Try spreading it onto baked goods (like scones, muffins or a flaky croissant), melt over warm pancakes, stir it into hot oatmeal, throw a big spoonful in your rice cooker, use it as a base for curries or blend into hot beverages. Works exceptionally well in hot chai and golden milk, as it has a cinnamon-heavy "golden milk" flavor.
Buy 4 jars and get $10 off your order. No code necessary - mix and match flavors - discount automatically applied in cart.
Shipping (within the U.S. mainland) is always free on every order!