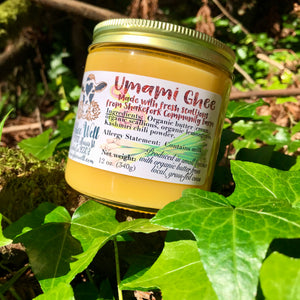 Flavorful, orange-tinted ghee made with four ingredients: organic butter from grass-fed cows, organic lemongrass, Kashmiri chili and locally grown organic scallions from Shakefork Community Farm in Carlotta, CA.
This ghee has an amazing, almost ramen broth-like flavor from the caramelized scallions and lemongrass. The Kashmiri chili does not add much heat, but merely enhances the flavor. Great for cooking just about everything, this has become the most used ghee in our household and takes our fried eggs & sautéed vegetables to the next level. Try melting over rice or add a spoonful when making soup broth. We've jokingly nicknamed it "MSGhee" as we think it's an addictive flavor enhancer (not to worry - there is no real MSG in this product).
Buy 4 jars and get $10 off your order. No code necessary - mix and match flavors - discount automatically applied in cart.
Shipping (within the U.S. mainland) is always free on every order!