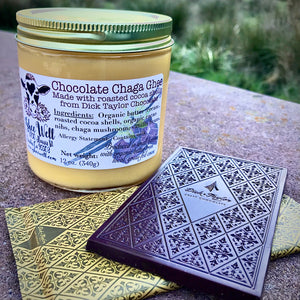 Golden, delicious ghee made with organic butter from grass-fed cows, roasted cocoa shells from Dick Taylor Chocolate, organic cacao nibs, wild harvested Chaga mushroom and real Tahitian vanilla beans.
We do not use any flavorings or extracts in our Chocolate Chaga Ghee, instead choosing to cut and scrape real vanilla beans by hand for this flavor. AMAZING addition to coffee! Makes a wonderful spread on pancakes, crepes, muffins, scones, sweet breads and pastries. This is definitely one of those flavors that gets eaten by the spoon in our house.
Buy 4 jars and get $10 off your order. No code necessary - mix and match flavors - discount automatically applied in cart.
Shipping (within the U.S. mainland) is always free on every order!