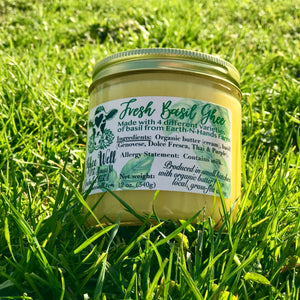 Golden, delicious ghee made with two ingredients: organic butter from grass-fed cows and fresh basil grown by Earth-N-Hands Farm in Kneeland, CA.
Four different varieties of locally grown basil - Genovese, Dolce Fresca, Thai & Purple - make this flavor taste like a lighter, sweeter version of pesto. One of those flavors that stands well on its own as a spread, but equally great for pan-frying chicken, fish, summer squash & grilled cheese sandwiches. Toss with hot, fresh pasta (or spaghetti squash if you're low-carb/gluten-free) and top with a little parmesan cheese.
Buy 4 jars and get $10 off your order. No code necessary - mix and match flavors - discount automatically applied in cart.
Shipping (within the U.S. mainland) is always free on every order!