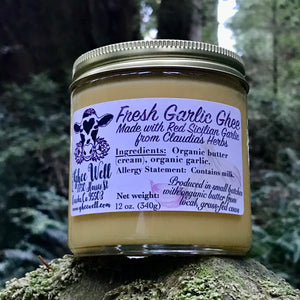 Golden, delicious ghee made with two ingredients: organic butter from grass-fed cows and locally grown organic fresh red Sicilian garlic from Claudia's Herbs in Orleans, CA.
Fresh local garlic, browned before being cooked into delicious ghee, makes all the difference. If you love garlic, you will absolutely love using this ghee on anything & everything.
Buy 4 jars and get $10 off your order. No code necessary - mix and match flavors - discount automatically applied in cart.
Shipping (within the U.S. mainland) is always free on every order!