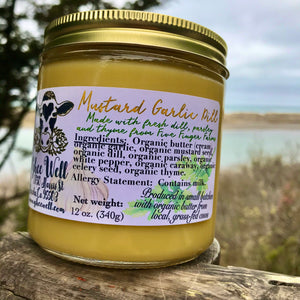 Golden, delicious ghee made with organic butter from grass-fed cows, organic dill, organic garlic, organic yellow mustard seed, organic parsley, organic white pepper, organic caraway, organic celery seed and organic thyme. The farms supplying the fresh herbs for this one rotate based on availability - this batch contains fresh dill and parsley grown by Rain Frog Farm in Blue Lake, CA.
This flavor was crafted specifically with fresh local salmon in mind; whether it's melted in the pan to fry a fresh fillet or spread on top before wrapping up in parchment paper to bake, you can't go wrong with using this ghee. Also try it to sauté summer squash or broccolini.
Buy 4 jars and get $10 off your order. No code necessary - mix and match flavors - discount automatically applied in cart.
Shipping (within the U.S. mainland) is always free on every order!