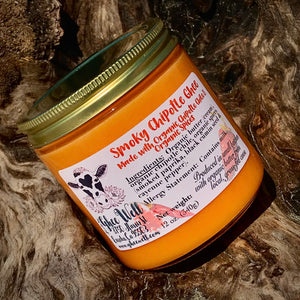 Beautiful, deep orange-hued ghee made with five ingredients: organic butter from grass-fed cows, organic chipotle chile, organic smoked paprika, organic black cumin seeds and organic cayenne pepper.
This ghee has an intense smoky flavor, medium level of spice, and has quickly become one of our top sellers at the market. Great for omelettes, cooking almost any type of meat (especially if that meat is destined for a tortilla), melting into grilled oysters or frying up potatoes in a skillet.

Buy 4 jars and get $10 off your order. No code necessary - mix and match flavors - discount automatically applied in cart.
Shipping (within the U.S. mainland) is always free on every order!