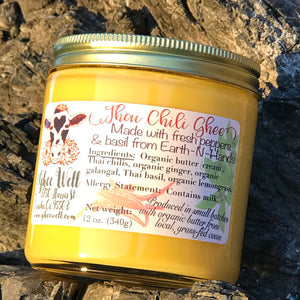 Golden, delicious ghee made with organic butter from grass-fed cows, fresh Thai chilis, organic fresh ginger, organic fresh galangal and organic lemongrass. The Thai chilis were grown by Earth-N-Hands Farm in Kneeland, CA.
One of our favorite flavors to cook just about everything in, as it "Thai-ifies" any dish. Mild-to-medium spice level similar to the K-Pep Ghee. Great melted over steamed vegetables, flat rice noodles or jasmine rice (or use to stir-fry any of them). Particularly good with chicken, but can be used at the start of any Thai dish. Try making Thai Chili popcorn for a unique treat!

Buy 4 jars and get $10 off your order. No code necessary - mix and match flavors - discount automatically applied in cart.
Shipping (within the U.S. mainland) is always free on every order!